Mae'r dudalen hon yn ddangos cynnwys Saesneg gan nad oes y cyfreithiad Cymraeg ar gael ar hyn o bryd
Councillor David Davies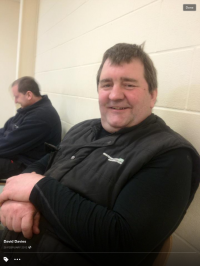 Contact Number: (yet to be supplied)
Contact email: Cllr.D.Davies@gcgcc.org.uk
Born: 1959
Raised in Cwmgors and live in the village to this day
I went to Ysgol Gyffyn Ystalyfera, then on to Gelli Aur and Pibyrlwyd Agricultural College where I then became an instructor and assessor. I am fluent in both Welsh and English – Welsh being my first language.
My first job after finishing my education was with Swansea City Council as a Tree Surgeon when Dutch Elm Disease hit the area. I then trained as an Aboriculturalist and started my own tree surgery business, which I still run today. I then joined South West Electricity Board as their first full time Tree Officer. When SWEB was privatised I retrained as an Overhead Linesman and I am still an Overhead Linesman for Western Power Distribution.
My hobbies have included boxing with Towy Boxing Club, Rugby Union, playing for both Llanelli Wanderers and Cwmgors RFC., where I also coached at Junior, Youth, Senior and District Level. Other interests involve farming and the natural environment, and have in the past bred Welsh Cob Horses and Pedigree Charolaise cattle.
I still live in the village of Cwmgors with my wife and I have two sons, who have now moved on into their own homes.