Mae'r dudalen hon yn ddangos cynnwys Saesneg gan nad oes y cyfreithiad Cymraeg ar gael ar hyn o bryd
Councillor Geoff Moore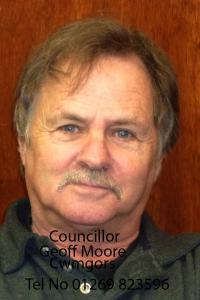 Contact Number: 07724940678
Contact email: Cllr.G.Moore@gcgcc.org.uk

Raised in the Midlands. Lived in Cwmgors since 2006 after moving from Kent.
Further information:
Trained as a secondary teacher in the early 70's.
Moved from the West country to Kent in 1974.
Taught in a Medway Secondary School for over 27 years enjoying every minute until ill health forced early retirement.
During the time teaching, I moved from subject teacher to Pastoral Head of Year, Head of I.T., Head of Business Studies, Administration Systems Manager and Member of Senior Management.
After moving to Cwmgors, I appreciated the friendliness and the community spirit in the area as well as the beautiful scenery, and decided that, if I became a community councillor, maybe I could possibly enhance this community spirit and help those in the community where needed.
At present:
Community Councillor for Gwaun Cae Gurwen representing Cwmgors.
Member of Cwmgors Community Centre Management Committee.